Back
The Emotional Preparation for Retirement
Blog post
04/29/21
As a person nears retirement, much of the conversation is frequently centered on financial preparedness. If you have done all the right things, you have been saving for retirement for many years leading up to this point and you have a financial plan in place, you have adjusted your portfolio, analyzed Social Security strategies, and planned for various what-if scenarios. That part is all mapped out for you. What is often a last-minute thought, and rarely discussed, is the emotional side of this huge transition in your life. Making plans for the emotional preparation for retirement can be an important piece of the puzzle that is often overlooked.
And sometimes, your emotions or mental state can present more of an obstacle to a smooth retirement transition than your finances. Retired people go from a state of feeling invincible, waking up with a purpose for each day and a reliable income, to a state of vulnerability, where you have the time and freedom to do and spend really as you choose. Most people assume they want to retire, as soon as they feasibly can, but have not looked very deep into what it means in their day-to-day life. Retirees can go through many different phases of emotions after they stop working. You might initially start with a sense of freedom, but you can also experience periods of regret, boredom, anxiety, and depression. It is important to recognize these emotions and look for healthy outlets to deal with them. Some ideas include various forms of exercise, reading, writing, or talking to others. Here are a few things to be aware of as you enter retirement: 
Flipping the spend/save switch
Changing your perspective on spending money can be a mental hurdle for some. It can be hard for someone who has saved their entire career and been frugal to allow themselves to spend the money in their retirement accounts. On the other hand, it can be difficult for some to rein in their spending if they must spend less in retirement than what they were accustomed to during their working years. People often ask, "How do I know what I can spend each month?" and "How am I going to get my money each month?"  Changing spending behaviors, habits and lifestyles can be hard. Working with a financial planner to estimate amounts and automate withdrawals from specific accounts can help eliminate some of the stress involved with these spending decisions. Keep in mind that if you do not spend your money, someone else eventually will. 
Having structure to your day
If you were a person who thrived on structure before you retired, you likely will benefit from having some type of structure to your day when you are retired. Having a set wake up time, routine activities and mealtimes, and set bedtime can help with the transition. Whatever schedule you choose, it is helpful to use some form of planner.  Writing it down helps you decide and remember when to do what.  What types of activities work best at what times is not always obvious and are not the same for everybody. The Wall Street Journal recently shared some good suggestions on ways to construct your morning, afternoon, and evening schedule for a productive and happy retirement. 
Finding a sense of meaning and purpose
Occasionally retirees experience a loss of identity. If you have always viewed yourself through the lens of your profession-as a teacher, doctor, accountant, etc., or if you have a strong attachment to your employer, you may find that you miss that part of your identity.  
Retirees need to find meaning and purpose in their new stage of life.  You need to find something else to fill your time, and it needs to include something that gives you fulfillment, whatever that might mean to you. If all your fellow retirees enjoy golfing every day, but this is not something you find fulfilling, then don't feel obligated to golf every day. You should take some time to explore what will give you a renewed sense of meaning and purpose. Maybe that means spending more time with your grandchildren or doing some volunteering in your community. Many people these days look at retirement as an opportunity to pursue a part-time encore career or a new direction. The possibilities are endless. 
Relationships-Your partner and your
 social network
Relationships are important for your emotional wellbeing, both within and outside your home. How will you stay connected socially? How much time will you spend with friends and family? How much time will you spend with your spouse now that there is plenty of time? Having a social network that does not include your spouse or people that you currently work will help with your transition to retirement. Sometimes work relationships come to an end in retirement. Sometimes when married couples are both in the house too much, tension occurs. There is a saying: "I married you for better or for worse, but not for lunch." Have these discussions and think these things through before you embark on retirement. 
Studies have shown that people report the highest degrees of happiness in their late teens and early twenties, and then again in similar degrees in retirement.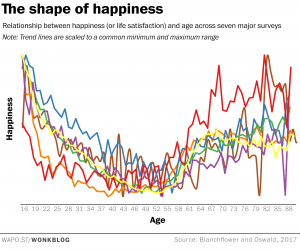 This is a time in your life that you should look forward to. So, plan well for it, financially and emotionally, but don't stress about it. Remember to be flexible and open to new ideas as you enter your golden years.