Back
Youth Sports versus Retirement Security
Blog post
07/22/20
Every well-intentioned parent wants to provide an active and healthy lifestyle for their child. In today's world of competitive parenting, this often includes enrolling your child in some form of youth sports. As a parent of three active boys, I have seen firsthand how engaging in youth sports can be a very rewarding and bonding experience for both parent and child. Sports can help build self-esteem and character in a child. It plants a seed for a competitive attitude, perseverance, and teamwork, all qualities that are important in many aspects of life. However, funding your child's athletic pursuits can turn out to be one of the biggest drains on the family budget over time.
It can start off with a minimal investment of time and money. As the child grows older, shows interest in playing at a more competitive level or gets drawn in following friends on the team, time and financial commitments can multiply. Additional expenses can include things like participation fees, equipment, trainers, camps, uniforms, and traveling costs such as bus trips, hotel stays and meals. Parents today are spending an increasingly significant portion of their discretionary income and time toward youth sports. A recent Harris Poll on behalf of Ameritrade reports several alarming trends in the way parents budget their money. According to the survey, 27% of parents spend $500 or more per month on youth sports. The study reports that these expenses impact 74% of American sports parents' ability to save and invest for their retirement. In fact, 1 in 5 (21%) sports parents are delaying retirement to pay for youth sports related expenses. Some parents are taking fewer vacations (36%) and working a second job (19%) to pay for expenses. The study really sheds light on how many parents can become blinded by their focus on competitive sports and lose the ability to focus on bigger, more important goals.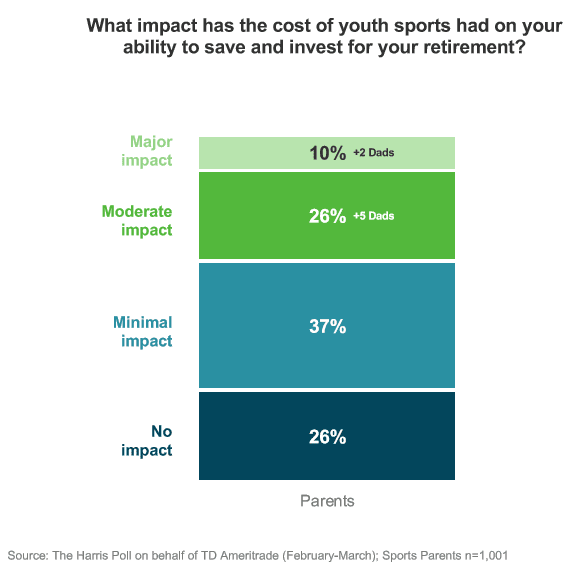 Some parents may rationalize their investment in youth sports with hopes that their child will play their sport in college and receive a scholarship. The thousands of dollars you spend on youth sports will not make a very big dent in your college bill. According to J.P. Morgan Asset Management, only about 2% of high school athletes receive scholarships to play college sports. And while this information is widely available, the Harris poll reports that parents are more confident that their child will receive an athletic scholarship today than they were in 2016. This runs contrary to the fact that the number of kids who receive an athletic scholarship has dropped by half since 2016. The reality is, even if an athletic scholarship is awarded, it usually only covers a small part of college costs, and only for the select few who receive them.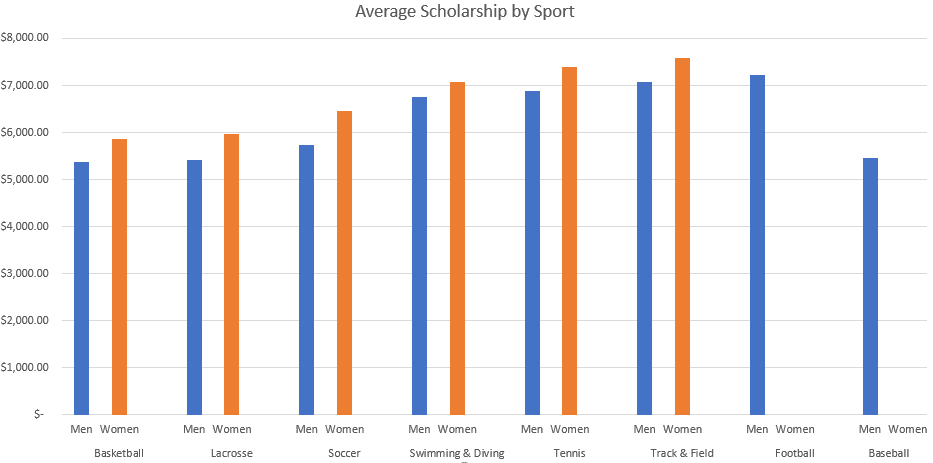 Source: Scholarshipstats.com: for National Collegiate Athletic Associatoin (NCAA), National Association of Intercollegiate Athletics (NAIA), junior colleges and community colleges.  Data from 2018-19 year.
Participating in athletics as a child can be very beneficial in developing many life skills, but it is important to remember that there are many ways to develop those skills. You cannot lose sight of saving toward your most important goals, which for most folks are college and retirement. Here are a few tips from Dave Ramsey, a trusted expert on budgeting and family finances, when navigating youth sports:
Stick with lower cost recreational leagues if you can. Delay joining travel teams.
Many feel the pressure to join a travel team. Most of these teams are filled with kids who aim to play their sport in high school. The average cost of playing on a youth travel team can be thousands of dollars per season. Local recreational leagues allow for exercise and competition without the extra costs.
Playing multiples sports can get expensive. Narrow it down and take a few months off. Or, as I have seen many parents do, play other sports year-round in local, less expensive recreational leagues.
Buy lightly used equipment. Sell your old equipment.
Buying new high- end equipment every season can add up. Look for a specialty used sports store, or utilize local neighborhood buy/sell websites.
Parents get busy shuttling kids to and from practice and often end up eating out more than they realize. Planning meals in advance and packing food can save money and be a healthier alternative.
The odds that your child will play this sport for a living is very low. The likelihood that he or she will play in college is also quite low. The likelihood that you will need to retire someday is very, very high.
Retirement is going to happen, and you must be ready. It is essential to start saving early, when your children are young, so align your family budget accordingly. Be intentional with your spending and eyes wide open with what you are committing to during your saving years.